Join Scuba School in Egypt!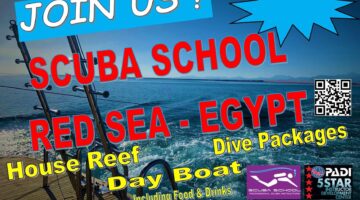 Join Scuba School's Day Boat in Egypt!
Scuba School has its own Day Boat in Egypt as well as apartments. So why not join us for a Red Sea dive on our own House Reef! We have various packages available all including food and drinks. Call Scuba School in the UK or locally call +20 100 213 8403.
Discover Scuba Diving
Get in the water!
Completing a "Try Dive" is the easiest way to jump straight in to Scuba Diving! 
What people are saying about Scuba School…
My son started training at his school with Scuba School and loved it. After PADI Seal Team he was hooked! This weekend, he got his open water diver qualification and... read more his dry suit diver specialty, he's 12. The whole team are amazing, so professional and safety conscious, and so enthusiastic! Jimmy and Lee were awesome instructors throughout and taught him so well. The amazing volunteer divers were so encouraging and couldn't do more to help him feel safe. I cannot recommend Scuba School highly enough, he'll definitely go back to do further qualifications! Thank you to a truly brilliant team!

J924CMnadineg


20th August 2023

For my 63rd birthday I treated myself to a try dive at Scuba School, before progressing to PADI open water qualification.

I did a fair amount of googling and... read more chose Scuba School because the web site and the facebook page gave me reassurance that they would be offering plenty of support and diving opportunities after I had qualified.

I have not regretted my choice for an instant. The team are friendly and support you through all of the skills that you have to learn, and make the whole experience fun and unpressured, but at the same time you are left in no doubt that the number one priority is safety, and they ensure that you understand and practice the key concepts that will keep yourselves and others safe.

After qualification, I was able to join a number of "Finding you Fins" dives, which are specifically designed to broaden the experience of new divers, again fully supported by the Scuba School, team.

And more recently, I have enjoyed a co-ordinated trip to Scuba School's dive centre by the side of the Red Sea where I achieved my PADI Advanced Open Water, and I was blown away by the beauty of the reefs.

So since joining Scuba School, I feel like I have joined a diving family. These people have a passion for diving and for the well-being of the oceans, and they get a genuine thrill from sharing that passion with others.

Give it a try!

David_from_UK


31st May 2023