Latest News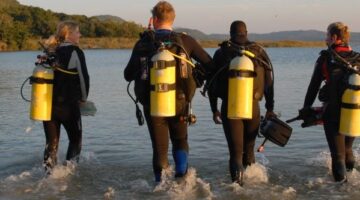 Ever wanted to learn to scuba dive? This is your chance! Scuba School offers Open Water Scuba courses all year round and we have a new course starting every month! For more information what a course entails, how long a course takes and what you can do once you are certified, click the image.
Discover Scuba Diving
Get in the water!
Completing a "Try Dive" is the easiest way to jump straight in to Scuba Diving! 
What people are saying about Scuba School…
Highly recommended, I only started scuba 8 months ago with no previous experience they cut no corners, safety is their first priority, I've done 3 courses with them now, at... read more the end of each course i felt completely confident in my new abilities, if like me you are doing this alone be warned you will be adopted, you will sit for hours drinking coffee eating cake in the little on-site cafe just chatting all mad things scuba, they arrange social evenings, dinner, Christmas party, scuba diving weekends and day trips, organised trips to the Maldives, Egypt and so on if you are looking for a scuba diving family for life not somewhere that just takes your money and sends you on your way, these are the people this is the place your looking for. Picture of the shark diving course I've just completed arranged by scuba school

Penelope Y


29th March 2022

Having heard good things about scuba school in Studley, I made some direct enquiries. I spent probably 1 and a 1/2 hours in the shop talking to a guy who... read more talked about what he knows and knows what he is talking about. The most striking thing was that I left impressed with the professionalism, honesty, friendliness and knowledge of Darren and his team. I am looking forward to relearning my diving skills in an atmosphere which I think will be supportive and tailored to my specific needs and learning style.

Y4760AUmartinh


29th March 2022