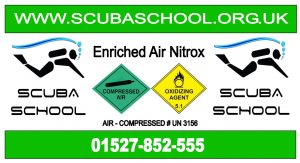 Here at Scuba School we now have the facility to fill any air cylinders that you may have.
With our large 300 bar air compressor and air storage banks we can cater for any air filling needs and we also offer enriched air Nitrox, which can be mixed to any percentage.
– Scuba cylinders, any size
– Air guns
– Paintball guns
– Nitrox
We fill your cylinders while you wait.
Visit our shop or for more information, please call the dive shop.
Our air fill prices can be found here!
Our Nitrox prices can be found here!
Our opening times for summer are:
Our opening times for winter are:
Mon – 08:30am – 6:30pm
Tue – 08:30am – 6:30pm
Wed – 08:30am – 6:30pm
Thu – 08:30am – 6:30pm
Fri – 09:00am – 10:00pm
Sat – 09:00am – 5:30pm
Sun – 09:00am – 5:30pm
Mon – 10:00am – 6:30pm
Tue – 10:00am – 6:30pm
Wed – 10:00am – 6:30pm
Thu – 10:00am – 6:00pm
Fri – 09:00am – 10:00pm
Sat – 09:00am – 5:30pm
Sun – 09:00am – 5:30pm
If doors are locked, please ring the bell