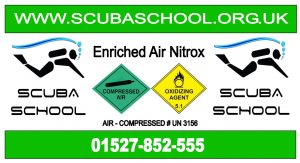 Here at Scuba School we now have the facility to fill any air cylinders that you may have.
Our monthly air purity test is performed by an outside vendor to ensure our breathing air is free from contamination. For use with oxygen situations we also offer a triple filtration process as defined by the UK HSE.
With our large 300 bar air compressor and air storage banks we can cater for any air filling needs and we also offer enriched air Nitrox, which can be mixed to any percentage, as well as TriMix & Helium fills.
– Scuba cylinders, any size
– Air guns
– Paintball guns
– Nitrox
– TriMix & helium: Diving Helium and TriMix is available for all TriMix certified Divers up to 300 Bar. You will need to bring your certification with you when you obtain your first fill. We will then record the details for future fills. Your cylinder must be labelled appropriately for the gas you are using. It must also be within 30 months of manufacture or have an appropriate IDEST Test.
More info on TriMix can be found here.
We endeavour to fill your cylinders while you wait.
Visit our shop or for more information and pricing, please call the dive shop.
Our opening times are:
Mon – 10:00am – 5:30pm
Tue – 10:00am – 5:30pm
Wed – 10:00am – 5:30pm
Thu – 10:00am – 5:30pm
Fri – 10:00am – 5:30pm
Sat – 10:00am – 5:30pm
Sun – 10:00am – 2:30pm
If doors are locked, please ring the bell.
Please note: due to the ever evolving Corona situation our opening times can change. Please call us if you want to find out if the shop is open.