Alan says at the Scuba School Dry Suit Repair Centre, you can be sure of a personal service and work carried out to the highest possible standard. We have been repairing suits for a long time now and have serviced and repaired hundreds of suits of all popular makes. We supply and fit the majority of your dry suit needs, from latex and neoprene neck and wrist seals as well as socks and boots. Full leak tests, quality metal zip fitting and a range of repairs, including most dry glove fitting as well as inflator and shoulder/wrist dumps replacement.
Please see our full range of services offered below.
We pride ourselves on getting your suit back to you looking at its best. To that end, where at all possible, all old seals and tapes are removed completely and replaced in a way that looks brand new with as much of the old glue marks removed.. We also, as standard, tape both the outside and inside of seals where possible (some neck bibs prevent this). This is not something routinely offered by some of the other repair centres.
We generally use high quality products and unless otherwise requested will fit bottle wrist seals and bellow neck seals, these being the preferred and tried and tested seals used by Scuba School on all its own school dry suits over many years. We will occasionally use other quality manufactures where bespoke products are required.
All our work is guaranteed, we hope that you will be completely happy with the work undertaken, but will revisit any issues you might have free of additional charge.
Scuba School Dry Suit Repair Centre aims to have your suit turned around in 7 to 10 days, often less. Please be aware that neoprene seals and some zips are bespoke sizes and may have to be ordered in prior to refitting and therefore occasionally may take a little longer.
If for any reason we feel that carrying out an alteration or repair would be less than optimal for the suit, we will be open and inform you. A little like the medical Hippocratic oath, we strongly believe in the view of "first do no harm". In these extremely rare cases we will advise on the best course of action for you.
Over the years, we have fitted front and rear zips, hundreds if not thousands of both latex and neoprene seals, braces, boots, socks, inflators and dumps, we have moved wrists dumps to help customers with restricted arm movements, comfort valve supply and fitting, countless pressure/leak tests and repairs and many other repair and servicing requests.
If you haven't dived in your suit for a while and have resurrected it from storage only to find your seals have degraded and turned to a sticky mess, don't write that expensive suit off, bring it to Scuba School and let us assess whether we can bring it back to life for you. We think you will be pleased with our results.
Scuba School offers a full dry suit repair service. As a member you get a membership discount.
If you need any repairs done on your dry suit. Please download the form by clicking on the image, fill it in, making sure that all measurements are correct and email it to: servicing@scubaschool.org.uk or call: 01527-852555
Get the Scuba School Dry Suit price list by clicking the image below.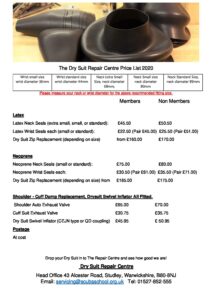 Click on the image below to download the dry suit repair order form.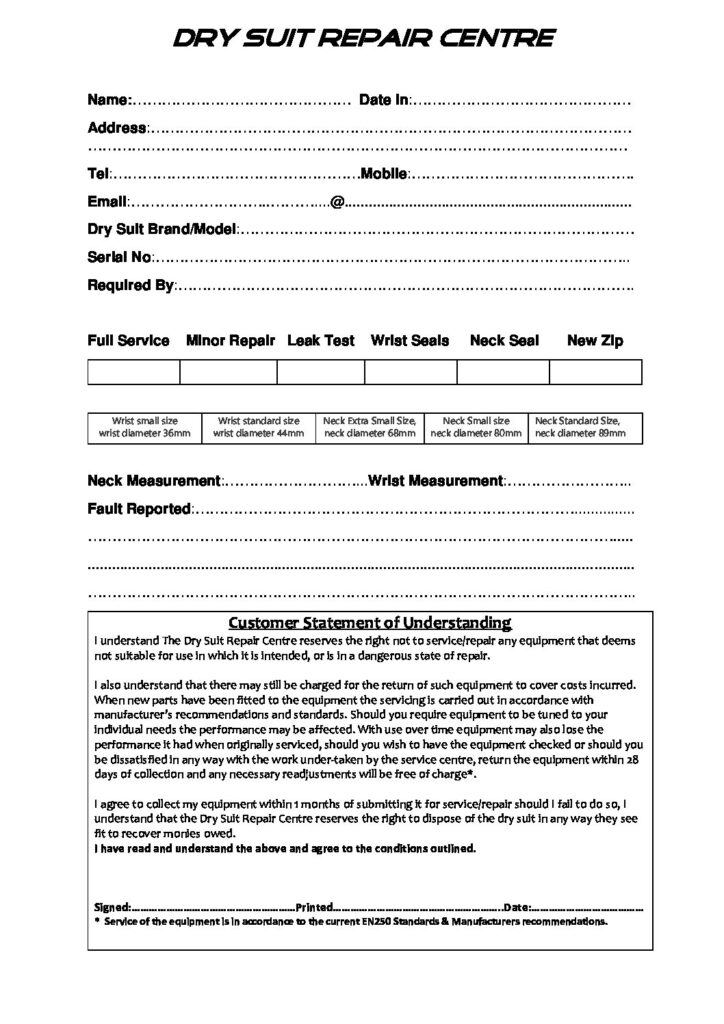 Our dry suit repair website can be found here.